Are you trying to think of the best strategy to wow your clients? You've found it! These unique personalized business gift ideas are sure to make an impression.
These presents, which range from bespoke gourmet food and wine hampers to personalized tech devices, are sure to convey to your customers how much you appreciate their business.
Give them something remarkable instead of settling for average. Prepare to wow your clients with these unique presents that they will never forget.
Key Takeaways
Personalized corporate gifts can showcase a brand and add a personal touch to strengthen business relationships.
Customized luxury gift baskets and gourmet food and wine hampers provide a delightful culinary experience tailored to each client's preferences.
Engraved office accessories and unique desk accessories enhance clients' workspace and leave a lasting impression.
Personalized desk essentials, customized leather goods, and personalized home decor add elegance and style to clients' professional and personal spaces.
1. Personalized Tech Gadgets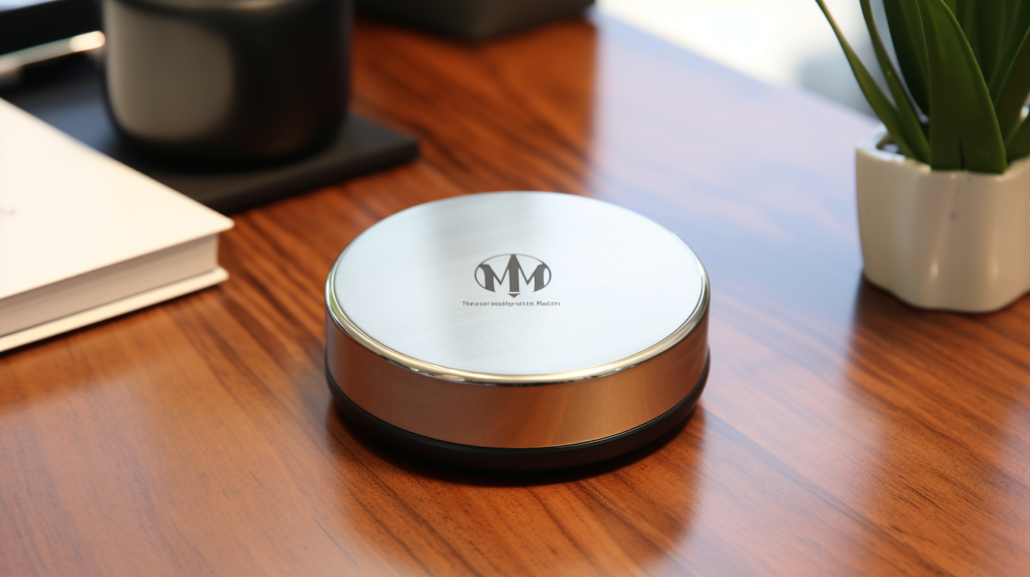 With useful and eye-catching customised tech gifts, you may wow your clients. Cutting-edge devices and accessories with a tech vibe are the ideal approach to give your customers something useful while also demonstrating your appreciation for their company.
Consider adding your company's logo or a unique message to products like smartwatches, Bluetooth speakers, and wireless chargers. In the rapidly evolving world of technology, these devices provide convenience and utility in addition to showcasing your brand.
Your customers will value the consideration that went into these personalized presents and will be reminded of your business each time they use them. Investing in customized technology devices will not only give your customers something special, but it will also leave a lasting memory that will keep your company at the front of their minds.
2. Customized Luxury Gift Baskets
Making bespoke luxury gift baskets is one way to provide personalised corporate presents that will make a lasting impact on your clientele. Personalized corporate hampers and opulent gift boxes are classy and elegant ways to express gratitude and build business ties.
Because they may be customized to each client's interests and tastes, these gift baskets are genuinely one-of-a-kind and unforgettable. Stuff the baskets with upscale goods like artisanal candies, premium liquors or wines, high-end skincare products, or even custom stationery.
Make sure to select sophisticated and fashionable packaging since it will make a big impression on the recipient, just like the contents do. Offering personalized luxury gift baskets is a great way to show your clients how considerate and detail-oriented you are, and it will leave a lasting impression.
3. Engraved Office Accessories
Looking for a memorable gift for your clients? Consider personalized desk essentials and custom-engraved office supplies.
Engraved office accessories not only add a touch of sophistication to any workspace, but they also show your clients that you value their professionalism and individuality.
From sleek pen sets to stylish desk organizers, these customized gifts are sure to leave a lasting impression.
Personalized Desk Essentials
Enhance your clients' office spaces with personalized desk essentials, including engraved office accessories. These customized items not only add a touch of elegance to any workspace but also show your clients that you value their business.
Here are a few personalized desk essentials that will make a lasting impression:
Personalized stationery: Give your clients a set of custom-made stationery that features their name or company logo. This won't only help them stay organized but also make their correspondence more professional and memorable.
Engraved pen holders: A stylish and functional addition to any desk, an engraved pen holder can be personalized with your client's initials or a special message. It will keep their pens and other writing instruments neatly organized and easily accessible.
Custom desk plaques: Help your clients personalize their office space by gifting them a custom desk plaque. Engraved with their name or title, this accessory will add a touch of sophistication and professionalism to their workspace.
Custom-Engraved Office Supplies
Personalize your clients' office spaces with custom-engraved office supplies that add a touch of elegance and showcase your appreciation for their business.
Personalized pen holders are a practical and stylish addition to any desk, providing a designated spot for pens and other writing instruments. Engraving your client's name or initials on the pen holder adds a personal touch that they'll surely appreciate.
Another great option is custom engraved notebooks, which can be used for jotting down notes during meetings or brainstorming sessions. The engraved cover not only adds a professional look but also serves as a constant reminder of your business partnership.
These personalized office supplies aren't only functional but also create a lasting impression that will keep your clients coming back for more.
4. Branded Travel Essentials
Don't forget to bring your branded travel necessities while getting ready to go. These personalized products act as a discreet marketing tool for your company in addition to adding a touch of individuality to your journey.
These three branded travel items are a must-have:
Personalized baggage tags: With your company's logo make it simple to find your bags on the luggage carousel. They not only give your luggage a polished appearance, but they also save your baggage from becoming misplaced.
Personalized Passport Covers: Use a personalized passport cover to keep your passport looking chic and protected. Whenever you show your passport, it not only safeguards your valuable travel document but also advertises your business thanks to the imprint of your logo.
Personalized Travel Wallets: Use a customized travel wallet to stay organized when you're on the move. It has your corporate logo and provides simple access to your necessities with pockets for your credit cards, boarding tickets, and passport.
Purchasing branded travel necessities improves your trip experience and makes a lasting impact on your customers. It's a wise investment.
5. Customized Drinkware and Barware
Don't forget to add a touch of elegance and sophistication to your client's beverage experience with customized drinkware and barware options.
When it comes to corporate gifting, unique glassware is a great choice. Imagine your client sipping their favorite drink from a personalized glass that showcases your brand. It not only adds a personal touch but also creates a lasting impression.
Another fantastic option is personalized cocktail shakers. These stylish shakers can be engraved with your client's name or your company logo, making them a thoughtful and memorable gift.
Whether your clients enjoy hosting parties or simply appreciate a well-crafted cocktail, customized drinkware and barware will elevate their drinking experience.
6. Personalized Executive Desk Sets
Looking for a unique and practical gift for your clients? Consider personalized executive desk sets.
These desk accessories aren't only professional and stylish, but they also make a memorable gift that will be used and appreciated every day.
From personalized pens to customized desk organizers, these sets are the perfect way to show your clients that you value their business and want to provide them with something useful and thoughtful.
Unique Desk Accessories
Personalized executive desk sets with distinctive desk accessories can liven up your workspace and make a lasting impression on your clients. These unique pieces perform as useful tools for everyday usage in addition to adding a sense of elegance to your office.
The following are essential desk accessories for the well-informed professional:
Inventive Paperweights: Make an impression on your clients with visually striking paperweights that display your brand or a customized message. These ornamental pieces provide any workstation a sophisticated touch while also keeping vital paperwork organized.
Personalized pen holders: Capture the essence of your company may truly make an impression. These chic holders are a chic accent to your workplace design in addition to keeping your pens close at hand.
Beautiful Desk Organizers: With pockets for holding necessary items like pens, business cards, and sticky notes, beautiful desk organizers help you stay productive and organized. These organizers not only prevent clutter on your desk but also showcase your expertise and meticulousness.
Make an impact on your clients and yourself by investing in these distinctive desk accessories to create a polished and professional workstation.
Professional and Stylish
You can create a professional and stylish workspace with personalized executive desk sets. These sophisticated corporate gifts are classy and professional gift options that are sure to impress your clients. With a personalized touch, these desk sets not only add elegance to any office, but they also show your clients that you value their business and appreciate their partnership.
These personalized executive desk sets not only elevate the look of any workspace but also make practical and thoughtful gifts for your clients. Show your appreciation with a gift that exudes professionalism and style.
Memorable and Practical
With executive desk sets that are unique and useful, you can make your customers' workspaces more appealing. Giving your clients a distinctive and useful desk set is a great approach to make a lasting impression.
Here are some concepts to think about:
Personalized pen holder: Your client's name engraved on a modern, chic pen holder will elevate their workplace and keep their pens neatly arranged.
Customized desk clock: Desk clocks look great as décor pieces in addition to keeping your clients on time. To make it genuinely unique, engrave their name or business emblem.
Desk organizer with monogram: With a customized desk organizer, you may assist your clients in maintaining a clutter-free workstation. Pens, paperclips, and other office necessities are kept organized in separate sections.
7. Customized Leather Goods
One popular option for customized corporate gifts is to consider adding a touch of elegance with personalized leather goods. Leather passport covers and monogrammed wallets are excellent choices that exude sophistication and thoughtfulness.
Customized leather passport covers not only protect important travel documents but also add a touch of style to every journey. They can be personalized with the client's initials or company logo, making them a memorable and practical gift.
Monogrammed wallets are another great option, providing a functional accessory that showcases the recipient's individuality. With a range of styles and designs available, you can choose a wallet that perfectly reflects your client's personality and preferences.
8. Bespoke Stationery Sets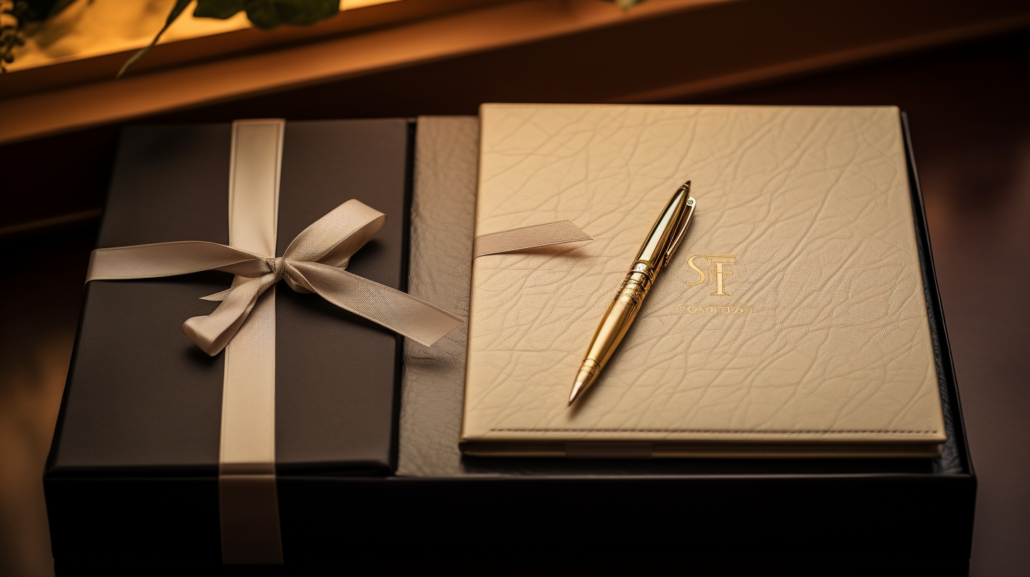 If you're looking to impress your clients with a unique and personalized gift, consider gifting them a bespoke stationery set.
Personalized letterheads and bespoke notepads are thoughtful and practical items that can make a lasting impression. A personalized letterhead with your client's name and company logo adds a touch of professionalism to their correspondence. It shows that you value their business and attention to detail.
Bespoke notepads, on the other hand, provide a practical tool for jotting down important notes and ideas. They can be customized with your client's name or initials, making them feel special and appreciated.
A bespoke stationery set isn't only a thoughtful gift but also a way to enhance your client's professional image. It's a gift that keeps on giving, reminding them of your partnership every time they use it.
9. Embroidered Apparel and Accessories
Give your clients embroidered clothing and accessories for a genuinely unique touch. T-shirt printing is a fantastic method to express your gratitude and make a good impression. Personalized logo T-shirts and apparels are useful and function as a continual reminder of your business.
The following three factors make personalized embroidered presents the ideal option for your clientele:
Professionalism: Embroidered clothing and accessories provide a polished, businesslike appearance. Your customers will value your meticulous attention to detail and your work in choosing a superior present.
Brand Visibility: You may raise brand awareness by giving branded merchandise as gifts. Your consumers will be happy to wear your brand, promoting your business to others and maybe drawing in new business.
Versatility: There is a large selection of embroidered clothing and accessories, ranging from T-shirts, laptop bags and tote bags to polo shirts and caps. Finding something that meets the wants and tastes of your clientele is simple.
Purchasing personalized embroidered presents is a considerate approach to improve your clientele and successfully market your business.
Conclusion
In conclusion, by choosing one of these unforgettable customized corporate gifts for your clients, you aren't only showing appreciation but also strengthening your business relationships.
Personalized tech gadgets, luxury gift baskets, engraved office accessories, and other thoughtful gifts will leave a lasting impression and keep your brand top of mind.
Invest in these unique gifts to make a lasting impact and stand out from your competitors in the corporate world.
Your clients will appreciate the effort and remember your company for years to come.